Wrath is a legendary champion introduced in v.0.48. This unit is able to use lightning in a similar manner to Envy's copy ability, and it is able to attack like a king at ++ and +++. It is also able to cast lightning in the opponent's king area if an adjacent ally dies.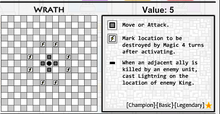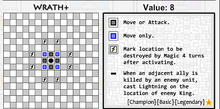 Strategy
Edit
Wrath can be used with petrify or freezing units, and even GravityMage to force opponents into a space where they do not want to go, and use the unpreventable lightning in order to kill them. In addition, Wrath can stay near high-value units to prevent them being taken, as the opponent will be forced to use one turn to move their king away from the lightning location.
Strengths
Edit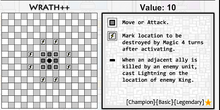 Wrath's strength lies in its lightning ability, especially at +++. It will be able to threaten multiple places at once, forcing opponents to move and shift their formation to avoid being destroyed. It is also able to threaten the opponent king if an adjacent ally dies, allowing for good defenses.
Weaknesses
Edit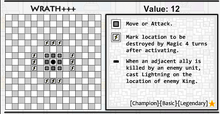 Wrath moves extremely slowly (like a
king
), and its magic is countered by
Antimage
as well as the 4 turns allowing opponent to easily avoid the magic.
Wrath has the roman numeral "IV" (4) at its pedestal, indicating that it is the fourth of 7 sins to be released as pieces in the game.