The snake is a Rare, Basic Minion.
---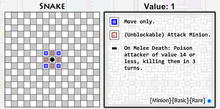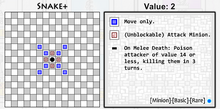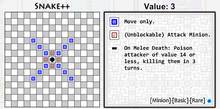 Strengths:
Edit
The snake is a versatile minion. It can only attack other minions like the Tiger. However, its power truly shines when it is traded with other stronger pieces, as it can poison the attacker and potentially kill powerful Champions.
Weaknesses:
Edit
The snake's strength is also its weakness: it cannot kill effectively without being killed, as well as having a diagonal weakspot especially. A pawn can just march up, take the piece, and still continue on pushing for 3 turns. It also cannot affect very high power pieces.