The Necromancer is a Champion unit that is able to upgrade ally skeleton or change opponent into bonepiles (grow in value upon death of other piece, when reach value 2 turn into skeleton)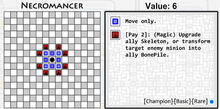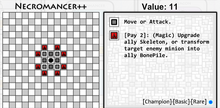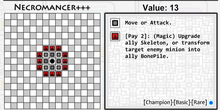 Strategy: Necromancer
Edit
Necromancer is used to exert control over enemy minion formations with its magic. Its knight-like attack pattern allows it to fork units quite often.
Strength: Necromancer
Edit
Necromancer can fork minions well. Its own ability also synergies with itself. With kills over time, the initially useless BonePiles can grow in value and become dangerous. Necromancer can also upgrade skeletons, allowing for greater control, especially combined with Lich.
Weakness: Necromancer
Edit
Necromancer's magic cannot target champions, leaving it a king-like unit with no champions left. In addition, the bone piles only turn into skeletons when enough units are killed, making it a bit difficult for you to instantly gain piece advantage from Necromancer. The "pay 2" may also be wasted if the BonePile is taken anyways, or if the upgraded skeleton does not trade well.
Necromancer underwent numerous changes, possibly more than any other piece: it first summons skeletons at fallen ally location, but had almost no attacks. At one point, it simply destroyed enemy minions, which changed to turn into skeletons (which was a bit too powerful), to the current version with "BonePiles".