Earthelemental is an epic champion with king attack at base that develops as it levels up. It is able to petrify range 3 in orthogonal directions, then gains ability to petrify range 2 in diagonal directions. At +++, it is able to petrify range 4 in orthogonal directions. In its magic areas, it can also create StonePillar, a piece that is basically an antimage with value one that cannot attack.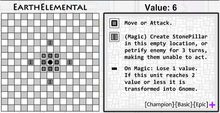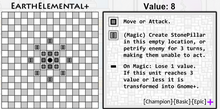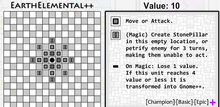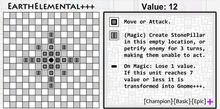 Strength: Earthelemental acts as a mix of Warrior and Medusa, as it is able to fork multiple units with its normal attack and petrify. Its magic allows it to cast even when blocked by pieces, and its StonePillar ability is versatile in that it can block off attacks.
Weakness: It is only able to petrify about four to five times at most before transforming into Gnome, a unit with no attack and only petrify. Its petrify is also shorter than other petrify units (4 compared to 5 turns), due to being magic.